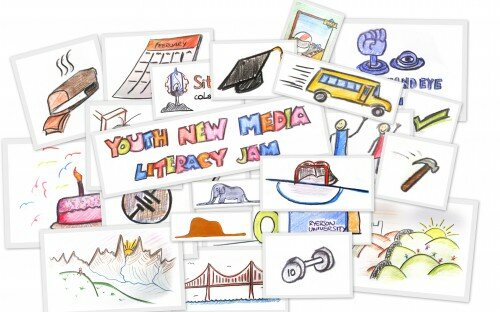 Illustrator, film maker, producer, photographer, writer, psychologist, youth worker, educator, hacker, maker, motion graphics artist, animator, web designer, sculptor, programmer, musician, video game maker, board game designer, pilot, break dancer, spelunker, astronomer, bicyclist, rugby player, chef, and climber.
These are the people in the 'Band of Creative Misfits' participating in the Youth New Media Literacy Jam and we're going to build some wild stuff.
The Youth New Media Literacy Jam is part of the TIFF Nexus initiative and an opportunity to build experimental new experiences targeted at youth. More specifically, it's a varied group of people from across interests and industries (the band of creative misfits) coming together to creating experiences to engage and inform youth in the 12 new media literacies.
Youth are already heavily involved with online social interactions, games, and transmedia content. They are better at navigating these interactions than most adults but do so as self-taught explorers. As such, they can be unaware of the skills they're using. Consciousness of these skills brings deeper understanding and control (like focusing on your breathing) and helps to navigate and engage in the world more effectively.
Over the next 10+ weeks, we'll be taking field trips, speaking with experts, engaging in creative games and exercises, and building experiences. Throughout, we'll be uniquely free from corporate agendas, marketing plans, and ROI considerations and have the backing of many great partners. It's an exciting and rare opportunity to have these means to explore; our sandbox is wide open for dreaming, playing, and creating.
To follow along, check back here or follow . We'll have people filming and photographing the field trips and build sessions and I'll be blogging about the participants, process, and projects as we go.
So what happens when you mix a spelunker with an hardware hacker, musician, and break dancer? Stay close, we might find out.
PS.. for more information about the guiding principles of the jam, you can find my entirely (and poorly) hand-drawn presentation with audio from Wednesday or download just the slideshow here.